Choosing The Right Door Lock | Locksmith Tujunga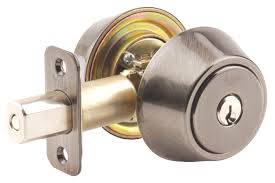 Yes, you guessed it right… your home's security starts right at your front door with the lock and the deadbolt you have in place. You'll be jeopardizing your home's security if you put in place a lock system that is easy to pick or break. It is for this reason that you need to have a good door lock that'll allow you to sleep peacefully at night making sure you and your loved ones are protected behind the closed door.
But how do you pick up the right door lock? With so many options available in the market and a whole lot of clutter, it becomes quite difficult for people to choose the best lock system for their house.
Here is a guide that will help you pick the right door lock for your home. Read through and you'll know what you need by the time you finish…
Types of Door Locks
Door locks are available in two main types: knobs and deadbolts that can be put on the front or the backdoor as you like. If you need primary security it is recommended that you opt for deadbolts only because levers or knobs offer only secondary type of security only.
What Should You Look For In A Door Lock?
Locks aren't something you'll purchase everyday therefore it is essential that you choose only the right type the first time only. Don't opt for style and ignore the function… many people tend to do this and regret the choices later. Your door lock is only good as the quality of security it offers therefore it's essential that you pick only the highest quality available.
The first thing that you need to look in a door lock is its function. You need a lock for privacy, entry or passage. Once you decide the function the next step is to `ensure the level of security it is going to offer and the endurance the lock has. You need a stronger lock for high traffic places so go for high quality only.
Remember that endurance in a lock is the matter of quality and grade only. Once you have chosen the type of lock you need, check its grade. Residential locks are usually categorized in three grades Grade 1, 2 and 3. Grade 1 offers the highest level of security while Grade 2 and 3 offer substandard security. If you're looking for deadbolts you should go for ones with a 1 inch throw as recommended by top security professionals.
Aesthetics only come in the last. Yes you need the best lock type, one that looks great as well but that doesn't mean you should compromise on the grade or quality. If you're ready to put in more money you'll be able to find a good lock with a grade that matches your security choice. Remember it all boils down to what you need and what you are willing to pay for it. Quality locks do not come in cheap.